Forex indicator MA_SquizeMA_Ed is a modification of the moving average, which indicates not only the direction of the trend, but also the beginning and the end of the flat period.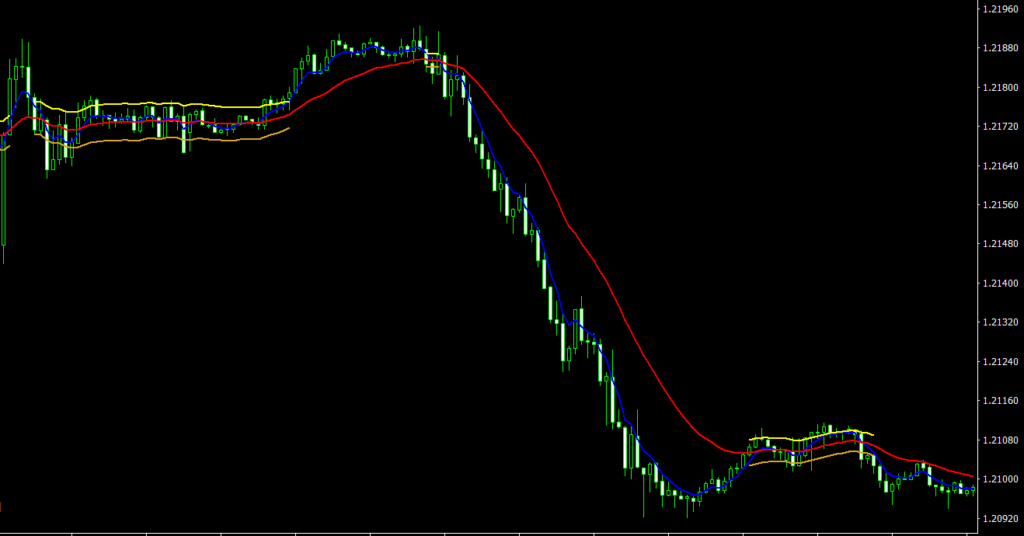 Many modern trend filters lack completeness – they either show the activity of the movement or its direction. The indicator MA_SquizeMA_Ed can do both: simultaneously show trend movement and flat.
The basis of the MA_SquizeMA_Ed indicator is the moving averages. Everyone knows how to work with them; they are part of more than half of trading strategies based on technical analysis. However, the main disadvantage of two MAs is always a flat movement, which they cannot indicate. This usually results a lot of false signals.
The MA_SquizeMA_Ed indicator, in addition to traditional moving averages with different periods, has two new lines that indicate the beginning of a side channel and its dynamic width. By installing this indicator on the chart, it becomes clear at what point it is impossible to enter into a transaction on the signal of the MA intersection – when the price is accompanied by 4 lines at once, which means that the number of false transactions should significantly decrease.
Please note that MA_SquizeMA_Ed indicator has a lot of parameters, so I would recommend selecting and changing them separately for your instrument and timeframe.
Features of MA_SquizeMA_Ed MT4 indicator
Platform: Metatrader 4
Ability to change settings: Yes
Timeframe: any from 1 Minute to Daily
Currency pairs: any
In MA_SquizeMA_Ed.zip file you will find:
Download MA_SquizeMA_Ed MT4 indicator for free: