Here is the new trend indicator Forex X Code, promising 150-300 pips of profit daily. Is it hard to imagine? Yes, perhaps… However, this is the statement made by the creators of this indicator.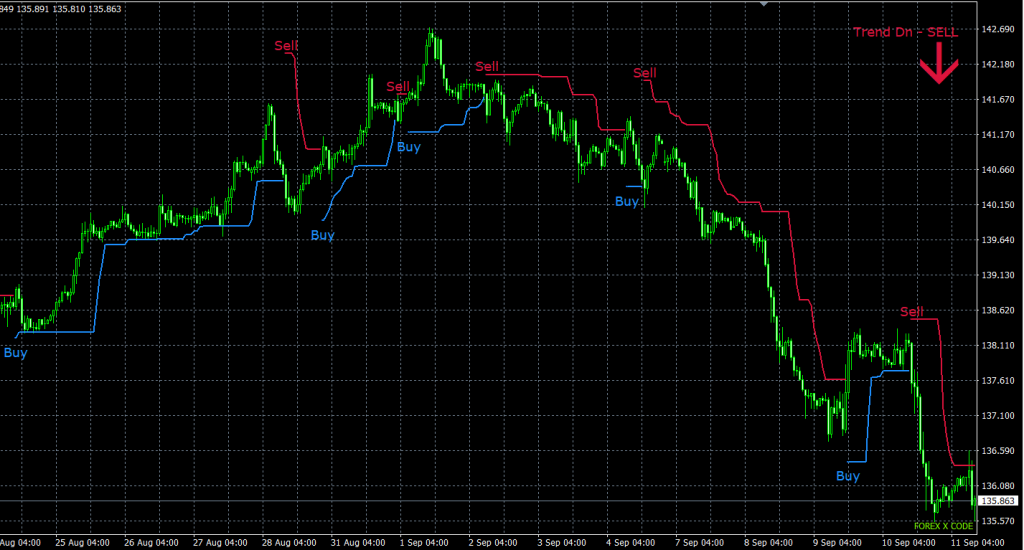 In fact, the Forex X Code indicator has all the positive and negative properties of any similar indicator: it shows a price reversal well, but behaves badly in a flat market situation. Its advantage, however, is the fact that the indicator does not repaint, which, of course could be very useful, given the rather accurate signals at the beginning of a new trend.
I find it difficult to say how true the profit figures stated by the creators of Forex X Code indicator are, but you may definitely use this indicator as a trend filter.
I would recommend putting the indicator on GBP/JPY on a 1 hour timeframe – this is where the signals are best. I would also suggest using the indicator line as a guide to place your stop loss. You have the option to configure the sensitivity of the indicator as well as set the level of stop loss in pips. In conclusion, it should be said that the Forex X Code indicator has a clear, convenient graphical marker of the current trend, as well as a sound signal when trend changes.
Features of Forex X Code indicator
Platform: Metatrader 4
Ability to change settings: Yes
Timeframe: any from 1 Minute to Daily
Currency pairs: any
In XCODE.zip file you will find:
Download Forex X Code indicator for free: