Forex arrow indicator MA2 Signal ver2.1 displays signals to enter the market based on the intersection of two adjustable moving averages.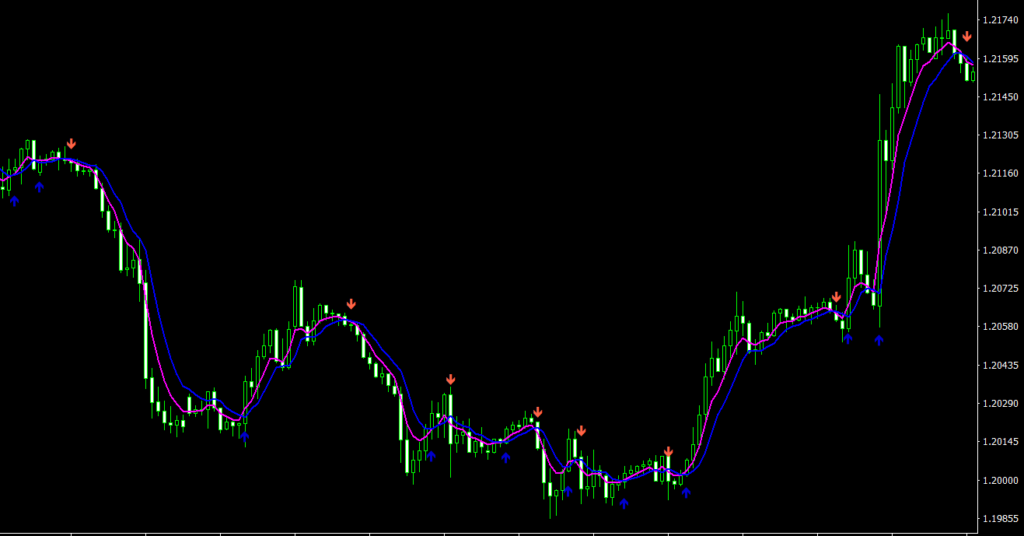 The indicator MA2 Signal ver2.1 is a signal variant of the intersection of two moving averages.
The MA2 Signal ver2.1 indicator allows setting the parameters of both moving averages.
Setting up the moving average method:
0 = SMA,
1 = EMA,
2 = SMMA,
3 = LWMA.
Price settings:
0 = Close,
1 = Open,
2 = High,
3 = Low,
4 = HL / 2,
5 = HLC / 3,
6 = HLCC / 4.
When moving averages cross, the indicator draws an arrow of the corresponding color and direction, and also duplicates with a sound signal and a text message.
Unfortunately, the MA2 Signal ver2.1 arrow indicator repaints is arrows, therefore it should not be used as an independent source of signals; however, with additional filtering indicators it can become the main element for creating trend trading strategies.
Features of MA2 Signal ver2.1 MT4 indicator
Platform: Metatrader 4
Ability to change settings: Yes
Timeframe: any from 1 Minute to Daily
Currency pairs: any
In MA2_Signal_ver2.1.zip file you will find:
Download MA2 Signal ver2.1 MT4 indicator for free: