The CandleStick Pattern Indicator is designed to identify candlestick patterns and alert the trader through integrated alerts. The indicator will recognize popular patterns such as Hammer, Hangman, Engulfing, Shooting Star, Tweezer Tops, Tweezer Bottoms, Bear doji, Bull doji and many more.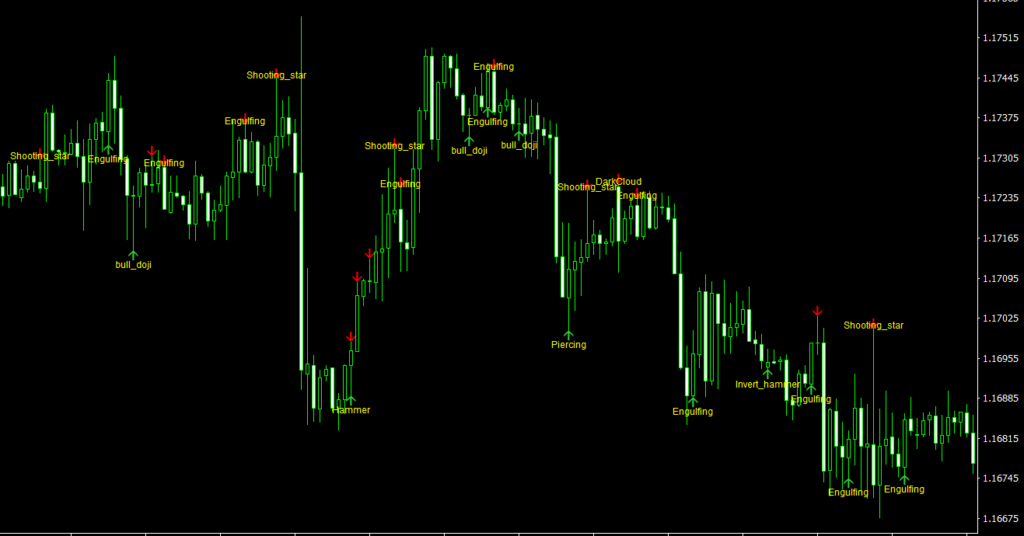 The CandleStick Pattern Indicator belongs to the category of informational indicators and displays candlestick patterns on the price chart of a currency pair. The indicator works on any trading instrument available in the MetaTrader 4 platform.
When a candlestick pattern is recognized, the CandleStick Pattern Indicator displays its name on the chart, marks it with an arrow, and also notifies the trader with a sound signal.
The settings of the CandleStick Pattern Indicator
Show strong reversal patterns – show strong reversal patterns.
Show weak reversal patterns – show weak reversal patterns.
Show continuation patterns – show trend continuation patterns.
Show Unclassified – show additional models.
View Bars – the number of the last candles taken into account by the indicator.
Sound Alert – sound signal when a new candlestick pattern appears.
Email Alert – sending an email alert when a new candlestick pattern appears.
Sell ​​Color – color of the down arrow (bearish signals).
Buy Color – up arrow color (bullish signals).
Text Color – the color of the text (the name of the candlestick pattern) on the chart.
The CandleStick Pattern Indicator can become one of the elements of a Forex strategy using candlestick analysis, and will also be useful for complex analysis of currency pair charts.
Features of CandleStick Pattern Indicator for MT4
Platform: Metatrader 4
Ability to change settings: Yes
Timeframe: any from 1 Minute to Daily
Currency pairs: any
In CPIv1.5.zip file you will find:
Download CandleStick Pattern Indicator for MT4 for free: