The RAVI indicator is an oscillator with a unique feature that allows you to timely identify the beginning of a trend movement.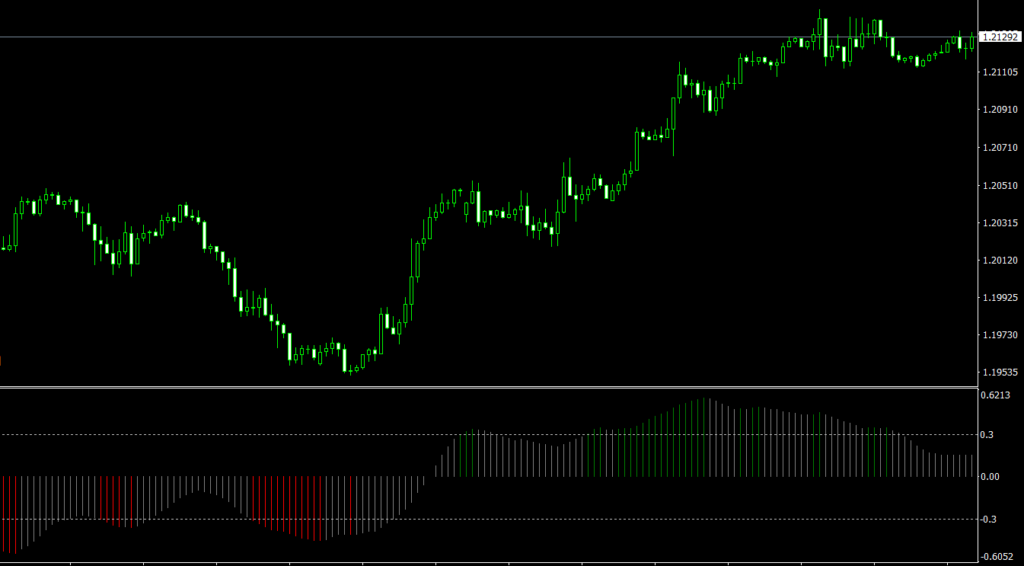 Forex RAVI indicator is an analogue of the MACD oscillator with its own characteristics. It is based on the difference between the two moving averages calculated as a percentage.
Indicator formula: RAVI = 100 * (SMA (7) – SMA (65)) / SMA (65)
In the RAVI indicator it is recommended to set the levels -0.3% and + 0.3% or -0.1% and 0.1%.
How to use the RAVI indicator
When the histogram crosses the upper level from bottom to top, it is considered that an upward trend has begun.
When the histogram crosses the lower level from top to bottom, it is considered that a downward trend has begun.
An uptrend is considered to be continuing as long as the RAVI line continues to rise, and a downward trend, respectively, as long as RAVI continues to fall.
Areas of a bullish trend are highlighted in green and areas of a bearish trend are highlighted in red. Non-trend areas or zones of uncertainty are gray. The colors can be changed at the settings of the indicator.
As soon as the indicator turns to the zero line, it is considered that the trend has stopped and the flat zone has begun. But if the indicator reverses again without entering the interval between the established levels, it is considered that the trend has resumed.
You may also use RAVI indicator to find convergence-divergence areas.
Features of RAVI MT4 indicator
Platform: Metatrader 4
Ability to change settings: Yes
Timeframe: any from 1 Minute to Daily
Currency pairs: any
In RAVI.zip file you will find:
Download RAVI MT4 indicator for free: