The Volatility Hyper Trend indicator uses several volatility indicators to determine the trend and indicate market entry.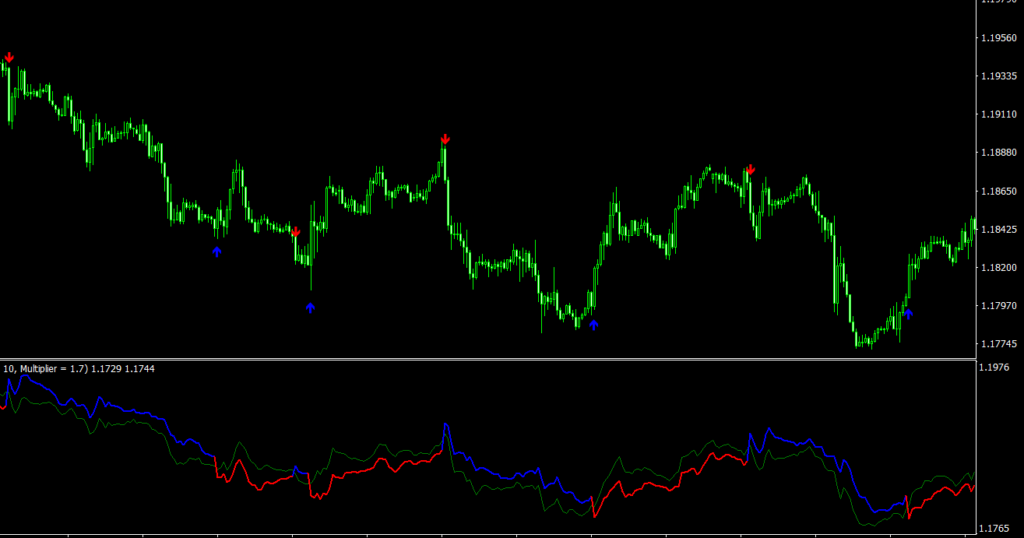 The Volatility Hyper Trend Forex indicator is a signal indicator based on the use of two standard ATR indicators.
ATR indicators are used with the same period and differ only in the multiplier coefficient, which provides a difference in their sensitivity and, accordingly, a shift of these indicators relative to each other.
Buy (blue arrow) and sell (red arrow) signals appear when the ATR indicators cross, which occurs due to a change in the volatility level. At the same time, the segments of the ATR indicators are colored corresponding to the current price trend:
Blue is an upward trend;
Red – downtrend;
Green is a neutral trend.
When using the Volatility Hyper Trend Forex indicator as an independent source of trading signals, it is necessary to introduce additional filters. It is also necessary to check the indicator for redrawing signals.
Features of Volatility Hyper Trend MT4 indicator
Platform: Metatrader 4
Ability to change settings: Yes
Timeframe: any from 1 Minute to Daily
Currency pairs: any
In VHT.zip file you will find:
Download Volatility Hyper Trend MT4 indicator for free: