The BullsBearsStrength trend indicator helps you easily find signals in the direction of the current trend by displaying its direction and strength.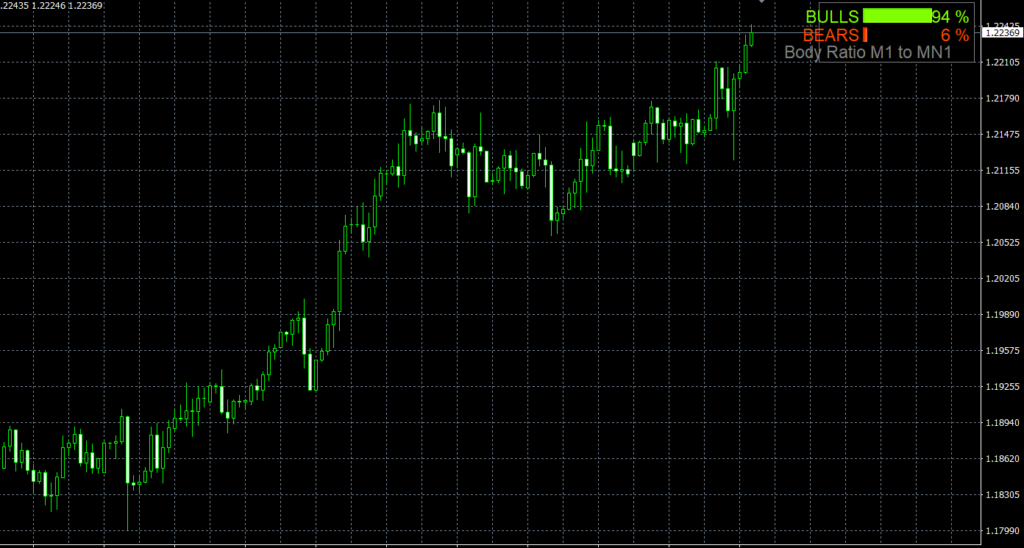 The BullsBearsStrength trend indicator determines the direction and strength of the current trend by displaying the balance of strengths between bulls (which move the price up) and bears (which push the price down) as a percentage.
The BullsBearsStrength indicator provides settings for choosing the used timeframes, as well as the type of calculation. By changing "Select Timeframe Range" parameter you may see the trend direction based only on selected Timeframe, M1 to H4 or M1 to Monthly. This way you will get a better understanding on the long term direction of the price.
It is recommended to use the BullsBearsStrength trend indicator to look for entry signals in the direction of the trend, provided that the strength of the trend shows a value of 65% and above.
Features of BullsBearsStrength MT4 indicator
Platform: Metatrader 4
Ability to change settings: Yes
Timeframe: any from 1 Minute to Daily
Currency pairs: any
In BullsBearsStrength.zip file you will find:
Download BullsBearsStrength MT4 indicator for free: