Forex indicator EMMA (Extremes Market Moving Average) is not repainting and has advanced functionality by displaying Fibonacci levels, channels and other important price levels.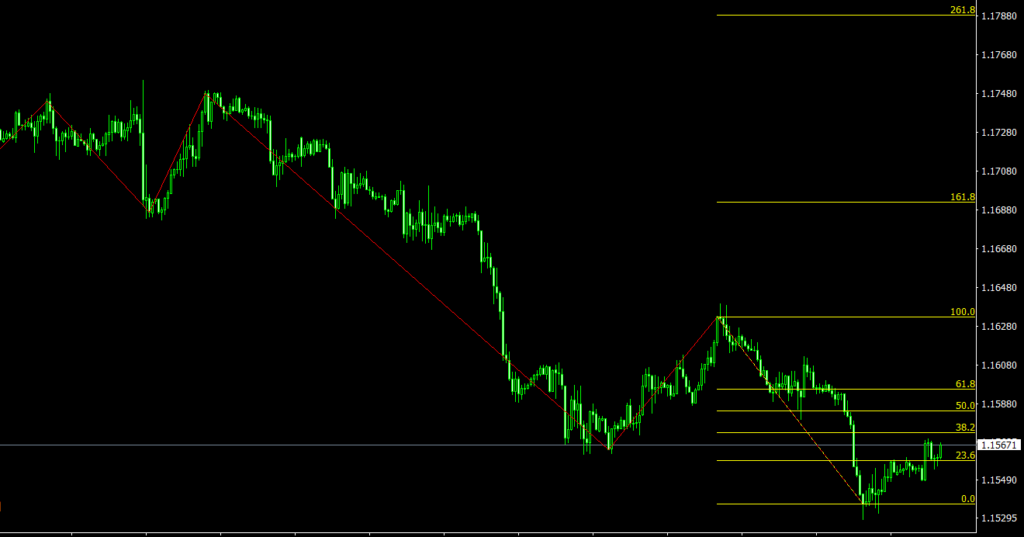 The indicator EMMA is an alternative to the standard ZigZag indicator. The indicator works on the basis of the bending of the moving average to determine the search areas for local minimums and maximums. According to the author, the EMMA indicator has no drawbacks that arise when finding local extremes using a moving average, the indicator values ​​are not redrawn.
Forex indicator EMMA for finding local extremes can be used in two modes:
by Close values ​​
by High / Low values
Moving average bends are filtered using the percentage deviation from the inflection point, the direction of movement of the MA line.
By default, the EMMA indicator uses SMA 18 applied to Close prices. The search for minimums and maximums is performed in the Close mode, the deviation is 0.1%.
Forex indicator EMMA settings
EMMA_Deviation_in_Percent – Moving average bend filter, deviation in %.
EMMA_Mode – selection of the operating mode. 0 – by Close values, 1 – by High / Low values
MA_Period – moving average period.
MA_Method – moving average type: 0 – simple moving average, 1 – exponential, 2 – smoothed, 3 – linearly weighted.
MA_Applied_Price – moving average calculation method: 0 – at the Close price, 1 – at the Open price, 2 – at the High price, 3 – at the Low price, 4 – at the price (high + low) / 2, 5 – at the price (high + low + close) / 3, at the price (high + low + close + close).
Additionally, the EMMA Forex indicator can be applied to the price chart:
"Traffic lights"
Fibonacci levels
Fibonacci fan
Linear Regression Channels
Standard deviation channel
To enable them in the indicator settings, set the value true next to the desired instrument.
The use of the moving average in the calculations gives the disadvantage of all trend indicators – lag. In this regard, it makes sense to use the EMMA indicator to find pivot points when building channels, TA figures, resistance and support levels.
Features of EMMA 4 MT4 indicator
Platform: Metatrader 4
Ability to change settings: Yes
Timeframe: any from 1 Minute to Daily
Currency pairs: any
In EMMA.zip file you will find:
Download EMMA MT4 indicator for free: