Forex indicator Multi Indicator Watcher displays the performance of 16 indicators from 9 timeframes for the selected currency pair in one price chart window.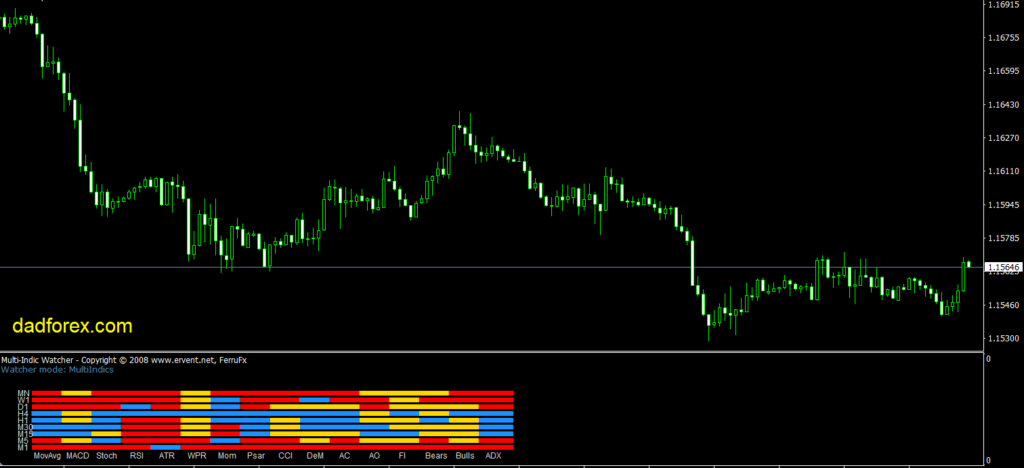 The Multi Indicator Watcher is a universal tool that displays the current trend on all timeframes for selected currency pairs, based on the readings of 16 of the most popular indicators.
The values ​​are displayed in the appropriate color depending on the strength and direction of the current trend.
Blue is a strong uptrend.
Light blue is a moderate uptrend.
Yellow is flat.
Orange is a moderate downtrend
Red is a strong downtrend.
Multi Indicator Watcher can display information in two modes. To select the appropriate mode, set the value to true in the indicator settings.
Multi Indicator Display Mode
In the Multi-Indic mode, the Multi Indicator Watcher displays the readings of 16 indicators on 9 timeframes for the current currency pair.
Indicators used:
Moving Average
MACD
Stochastic
RSI
ATR
WPR
Momentum
Parabolic SAR
CCI
DeMarker
Accelerator Oscillator
Awesome Oscillator
Force Index
Bears
Bulls
ADX
Each of the 16 indicators can be customized according to your preference.
Multi-Pairs Display Mode
In the Multi-Pairs mode, the Multi Indicator Watcher displays readings on all timeframes of only one of the 16 indicators selected by the user for several currency pairs.
To select the corresponding indicator in the settings, you need to set true, for the rest – false. Select the currency pairs you want to display in the same way.
The Multi Indicator Watcher indicator can become an element of any Forex strategy and will prove to be a significant help in any trading style.
Features of Multi Indicator Watcher MT4 indicator
Platform: Metatrader 4
Ability to change settings: Yes
Timeframe: any from 1 Minute to Daily
Currency pairs: any
In Multi-Indic_Watcher.zip file you will find:
Download Multi Indicator Watcher MT4 indicator for free: