Trend indicator Forex Profit Boost is an effective compilation of Bollinger Bands and Moving Averages, allowing you to accurately determine the phase and strength of the trend.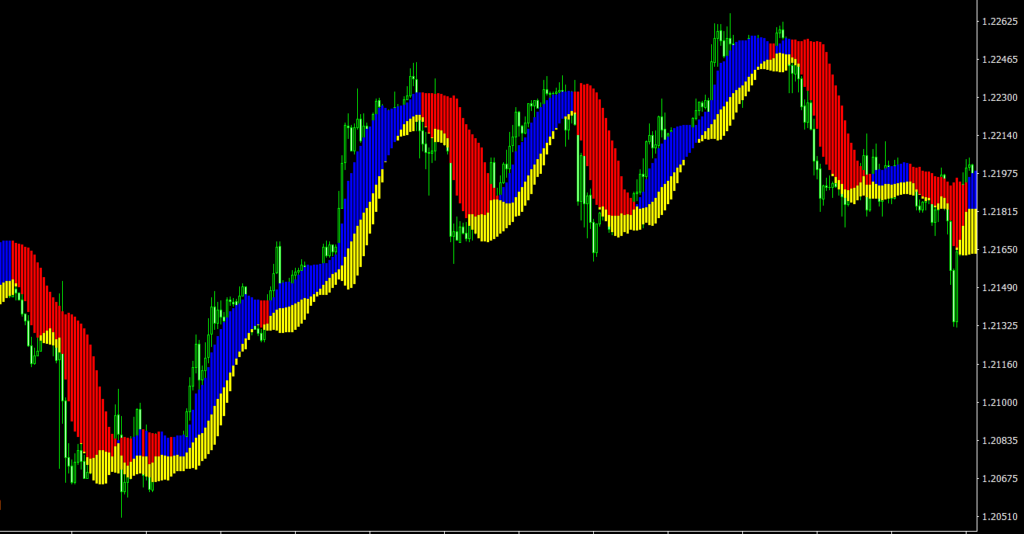 The indicator Forex Profit Boost belongs to the trend category and allows you to determine the strength and phase of the current trend. Its operation is based on two moving averages and Bollinger bands.
Each trend phase is indicated by a histogram of the corresponding color:
Red is a downtrend.
Blue is an upward trend.
Yellow color – fading of the current trend, probable trend change, beginning of correction or flat. The probability increases depending on the number of yellow bars.
Application of the Forex Profit Boost indicator in trading
To enter the market using signals of the Forex Profit Boost indicator, you can use two methods – aggressive and conservative:
The aggressive method involves entering the market when the trend changes, that is, when the histogram color changes from red to blue and vice versa.
The conservative method provides for entering the market after a pullback when a new trend appears, that is, after a decrease in the yellow bars of the histogram.
Since the Forex Profit Boost indicator is a trend indicator, I would recommend using any Forex oscillator with it to filter false signals. According to the authors of the indicator, it works on any timeframe, but according to the observations, Forex Profit Boost indicator will be most effective on timeframes from H4 and higher.
Features of Forex Profit Boost MT4 indicator
Platform: Metatrader 4
Ability to change settings: Yes
Timeframe: any from 1 Minute to Daily, H4 and higher recommended.
Currency pairs: any
In ForexProfitBoost.zip file you will find:
Download Forex Profit Boost MT4 indicator for free: