The STAR 13×68 MAs TT arrow indicator gives accurate entry signals using multiple moving averages and has an extended set of parameters.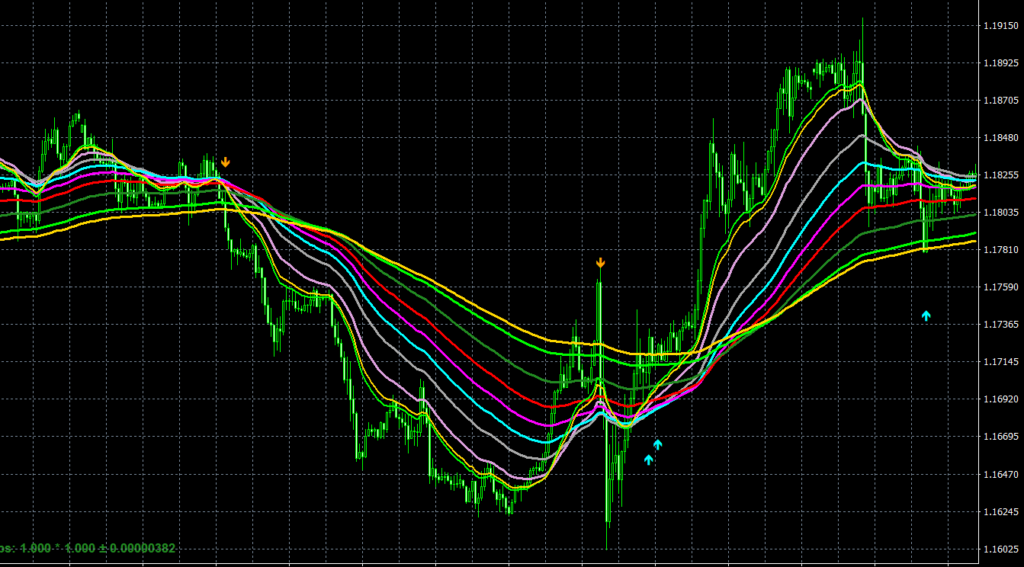 The indicator STAR 13 × 68 MAs TT is another option for using ribbon of moving averages in trading on the foreign exchange market.
In the STAR 13×68 MAs TT indicator, by default, the Moving Average of the following periods is implemented: 16, 3, 26, 5, 34, 7, 42, 8, 52, 10, 68, 13, 94, 18, 110, 21.
An arrow signal appears when the moving average of the largest period is bended (default 110 MA).
Unlike similar indicators, the STAR 13 × 68 MAs TT indicator uses parameters that are convenient for fine-tuning them:
xSpeedFactor and FiboFactor – two additional multipliers for periods;
FilterPips – how many pips to add / subtract from the moving average for the inflection to be considered valid;
ShowSpectrum13 – enable the display of moving averages with small periods (3, 5, 7, 8, etc.).
The idea of ​​moving averages ribbon is far from new, but the STAR 13 × 68 MAs TT trading indicator demonstrates its very effective implementation, which certainly deserves the attention of traders.
Features of STAR 13 × 68 MAs TT MT4 indicator
Platform: Metatrader 4
Ability to change settings: Yes
Timeframe: any from 1 Minute to Daily
Currency pairs: any
In STAR-13×68-MAs-TT.zip file you will find:
Download STAR 13 × 68 MAs TT MT4 indicator for free: