Forex indicator EasySupplyDemand identifies support and resistance zones, as well as gives recommendations on how to enter a trade, set stop loss and take profit.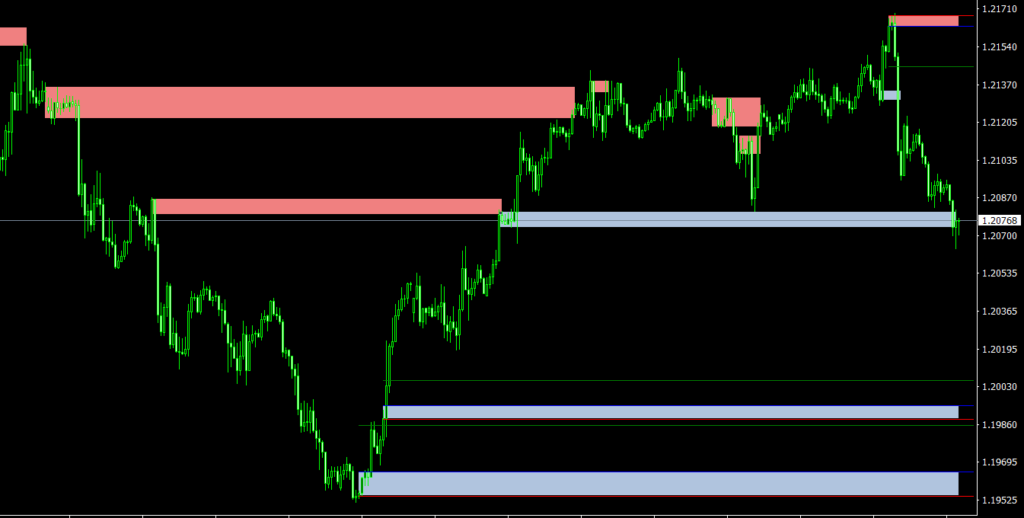 EasySupplyDemand indicator uses the values ​​of the ATR volatility indicator to plot support and resistance zones on the price chart of a currency pair.
In addition, the EasySupplyDemand indicator displays the recommended trade entry levels based on bounces from support and resistance zones, as well as stop loss (red line) and take profit (green line) orders.
When you hover the mouse over a line, a tooltip appears with an explanation of what this line is. Note, to clear up any confusion, the lines are grouped and each group is numbered.
Of course, the EasySupplyDemand indicator can be used as a source of trading signals, but in this case, false entries are inevitable. I would recommend filtering indicator signals using oscillators, for example RSI, Stochastic or MACD.
Forex indicator EasySupplyDemand is a very effective assistant in trading, which is especially useful for novice traders who do not have sufficient experience in determining important technical levels and correctly placing stop loss and take profit orders.
Features of EasySupplyDemand MT4 indicator
Platform: Metatrader 4
Ability to change settings: Yes
Timeframe: any from 1 Minute to Daily
Currency pairs: any
In EasySupplyDemand.zip file you will find:
Download EasySupplyDemand MT4 indicator for free: